It's hard to believe August is already ending soon but with this in mind the playoff race is heating up in MLB. Tonight is it's an important matchup between the Milwaukee Brewers and Arizona Diamondbacks. We've got another breakdown here and also be sure to check out our free bets we post most days on Telegram: t.me/sportsbettingmasters
Today's Bet: Milwaukee Brewers @ (1.83/-120)
Key Factors:
Avoiding recency bias
Anderson pitching splits
Gallen's regression?
Avoiding recency bias
We are beginning with this point first because we are betting on a pitcher who gave up 10 runs and 9 hits in less than 3 innings. Crazy people, we are, right? We'll make our case for Chase Anderson after his last game was a disaster. Gave up three home runs, and had the worst game of his career. Unlike how he has been lately looking at his recent game logs where he has been relatively steady. However, things may not have been as bad as it seemed. Take a look at the second chart…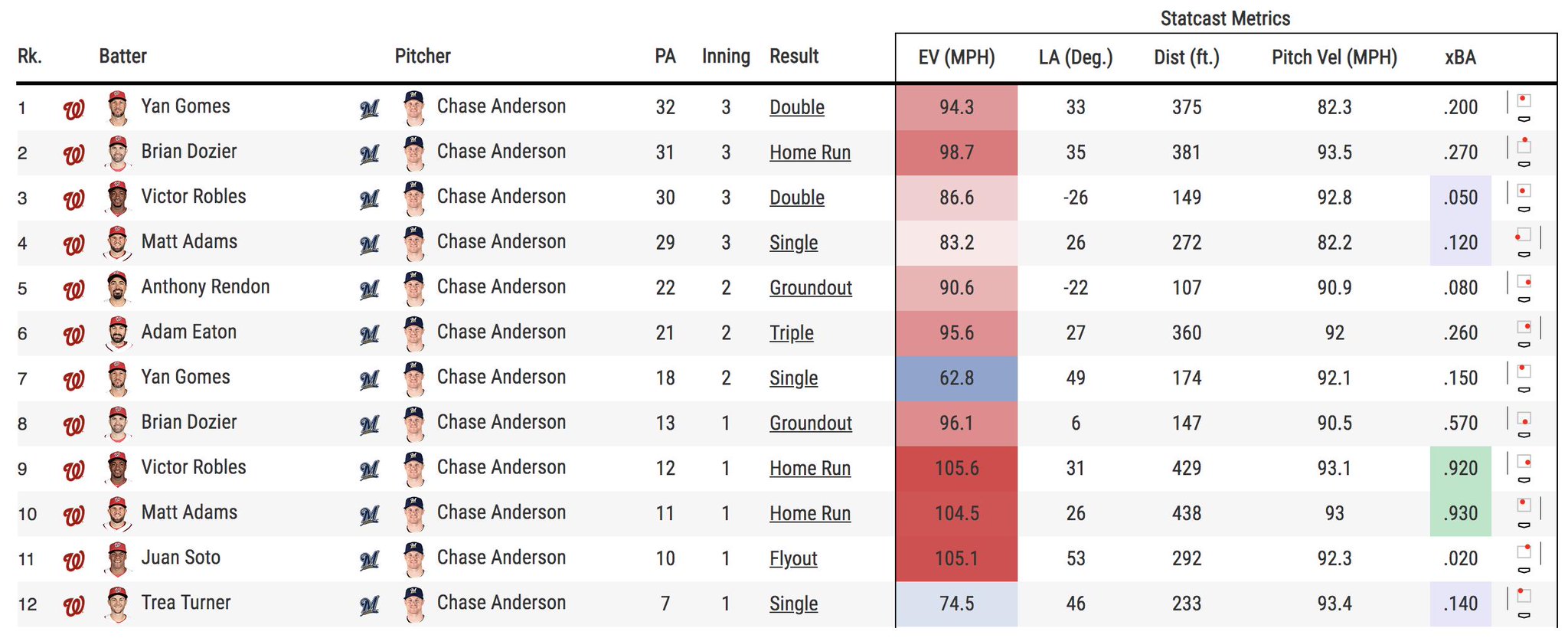 Taking a look at every at-bat where an opposing hitter put the ball in play against Chase Anderson, the advanced stats tell a different story. While Anderson appears to have been terrible, the underlying numbers show he was not as bad as the results seem. 9/12 batted ball events resulted in an exit velocity less than 100 miles per hour. In other words, Anderson was not hit nearly as hard as his numbers appear. We will not overlook his last game entirely but the matchup vs. Arionza this evening suits him much better.
Anderson pitching splits
For Chase Anderson, his pitching splits are very different. Against left-handed batters, he limits power, allows fewer players to reach base, and has shut down lefties all season. This is important as you can see in the chart below 5/8 hitters (excluding the pitcher) in the Diamondbacks lineup are left-handed hitters. Average-wise, Chase Anderson will have an advantage over Arizona hitters like he has over left-handed hitters as a whole all season, a .178 opponent batting average and .248 on-base percentage. We think he will bounce back here.
Gallen's regression?

We mention regression as Zac Gallen has been very good this year despite some advanced numbers that could be a concern. Overall he has a 2.45 ERA and has yet to allow more than three runs in a game. However, digging deeper we find that perhaps he's outperformed his expectations:
Highlighted in yellow shows Gallen and his numbers this year. Note that his xFIP is nearly 2.00 points higher than his actual ERA. Highlighted in green shows projections of what his ERA "should be". Obviously, players can overcome numbers. However, what is concerning the most about this matchup is Gallen has a 12.9% walk rate (higher than most pitchers on average). What is concerning the most is how the Brewers rank 3rd most in walks per game. They are going to make Gallen work to throw strikes. Gallen may only go 5-6 innings as a result and the Brewers will go up against a mediocre Arizona bullpen who ranks 12th worst out of 30 teams in terms of bullpen ERA in August.
With just over a month left the go in the season, the Brewers continue to try to make up ground. Last night they picked up a 6-1 win over Arizona in the series opener. Tonight we are getting nearly even odds on them. At first glance, Arizona looks to be in a good spot, but we will believe in our numbers tonight and take a shot on the Milwaukee Brewers to get a much needed home victory.